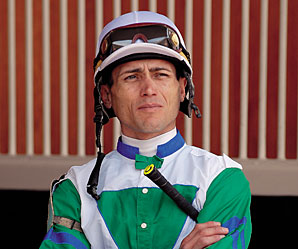 From DMTC Publicity
DEL MAR, Calif. (Aug. 3, 2013) -- Jockey Garrett Gomez was levied a $1,000 fine for taking off his mounts on July 17, opening day of the Del Mar season, and Thursday, July 18, but could return to riding races as early as next Wednesday, August 7.
That was the result of a 95-minute formal hearing Friday afternoon at the Del Mar stewards' offices. The hearing was a follow-up to an informal meeting last Sunday in which Gomez met with stewards Scott Chaney, Kim Sawyer and Tom Ward for the first time since absenting himself to undergo treatment at an Orange County clinic for a relapse to alcohol problems.
Investigator Rick Amieca presented the complaint against Gomez and recommendations for the California Horse Racing Board. Gomez's representatives included Bob Fletcher of the Winners Foundation, which is overseeing Gomez's recovery efforts.
Through the Winners Foundation, Gomez is attending 12-step meetings and has made arrangements to undergo treatment with Dr. Daniel Amen in Newport Beach. Amen is the head of the nationwide Amen Clinics which do evaluation studies of brain based disorders and have worked with many professional athletes with substance abuse or personal problems.
Stewards ruled that Gomez would be subject to drug testing by the CHRB, but allowed to gallop horses in the morning as soon as he is cleared by test results. Gomez can be named on mounts starting next Wednesday – entries will be taken on Saturday – but riding is contingent upon the results of further tests and a report after an evaluation meeting scheduled Monday with Dr. Amen.