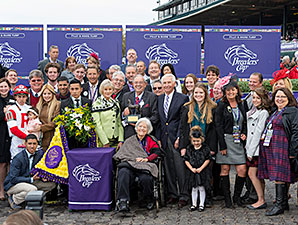 By Blood-Horse Staff
Kenneth and Sarah Ramsey have won the fifth annual John Deere Award as outstanding breeders of the 2015 Breeders' Cup Challenge Series and the Breeders' Cup World Championships.

 The Central Kentucky couple campaigned Stephanie's Kitten and Big Blue Kitten, both by their stallion Kitten's Joy  , to a respective win in the 2015 Breeders' Cup Filly and Mare Turf (gr. IT) and third-place finish in the Longines Breeders' Cup Turf (gr. IT) Oct. 31 at Keeneland.
 
This year's award marks the second John Deere Award for the Ramseys, who won the inaugural award in 2011.
 
The award, presented by Breeders' Cup Limited and NTRA Advantage, emphasizes the contributions of breeders to the Breeders' Cup program, according to a release. The industry's breeders provide funding for the purses for the World Championships through the annual nominations of foals and stallions.
 
NTRA Advantage and John Deere will award a John Deere TS Gator Utility Vehicle to the Ramseys.
 
The winner is determined by the breeder who received the highest number of points based upon graded/group first-place finishes in the 78 Breeders' Cup Challenge races and the 13 Breeders' Cup World Championships races held this year, as follows:  
 
Grade/Group I: 10
Grade/Group II: 6
Grade/Group III: 4
Ungraded: 2                    
 
The Ramseys, who own Ramsey Farm near Nicholasville, Ky., earned 40 points in Breeders' Cup Challenge and World Championships races, finishing six points ahead of Coolmore with 34 points. Clarkland Farm finished third with 30 points.
 
Leading the way for the Ramseys was the 6-year-old mare Stephanie's Kitten out of the Catienus mare Unfold the Rose. Stephanie's Kitten won two grade I races for a total of 20 points in also capturing the Flower Bowl Invitational, a Breeders' Cup Challenge race held at Belmont Park on Oct. 3. Big Blue Kitten, a 7-year-old out of Spent Gold, by Unaccounted For, won two grade I Breeders' Cup Challenge races this year: the United Nations Stakes at Monmouth Park on July 5  and the Joe Hirsch Turf Classic at Belmont Park on Sept. 26.
 
Both Stephanie's Kitten and Big Blue Kitten were bred in Kentucky by the Ramseys, and both were trained this year by Chad Brown. Stephanie's Kitten's victory in the 2011 Breeders' Cup Juvenile Fillies Turf helped propel the Ramseys to their first John Deere Award.
 
"We congratulate Ken and Sarah Ramsey on becoming the first two-time winners of the John Deere Award," said Craig Fravel, Breeders' Cup president and CEO. "The performances of both Stephanie's Kitten and Big Blue Kitten in the World Championships and in the Challenge series are a testament to the Ramseys' commitment to excellence in both breeding and racing over the years."
 
"It's quite a feat to do it again," said Ken Ramsey, who along with his wife Sarah, have won Eclipse Awards as outstanding breeder the past two years. "It validates our program because we are not a big breeder. To pull this off with one stallion means I'm super lucky, but to do it twice, it makes me think we're doing something right, considering the competition."
 
"We're extremely pleased to recognize Ken and Sarah Ramsey as outstanding breeders for the John Deere Award," said Tom Elliott, product marketing manager for John Deere. "Their dedication to excellence in breeding is unsurpassed and we congratulate them on winning this award."
 
Coolmore finished second in the John Deere competition with 34 points off the strength of Longines Breeders' Cup Turf winner Found and three Breeders' Cup Challenge triumphs in Europe: Minding in the Moyglare Stud Stakes (Ire-I) at the Curragh, Johannes Vermeer in the Willis Champion Juvenile Stakes (Ire-III) at Leopardstown, and Ballydoyle in the Prix Marcel Boussac (Fr-I) at Longchamp. All four were sired by Coolmore stallion Galileo.
 
Clarkland Farm, finishing third with 30 points, was led by two-time champion Beholder (Henny Hughes), who won three Breeders' Cup Challenge races this year highlighted by her dominating performance against males in the TVG Pacific Classic (gr. I), which came in between victories against fillies and mares in the Clement Hirsch (gr. I) at Del Mar and the Zenyatta Stakes (gr. I) at Santa Anita Park.