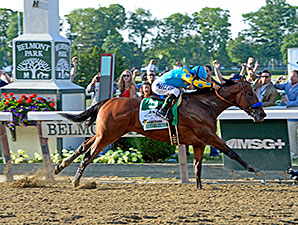 By Claire Novak
Triple Crown winner American Pharoah will point for the Breeders' Cup Classic (gr. I) after all.
Despite comments following the colt's runner-up finish in the Aug. 29 Travers Stakes (gr. I) which indicated he was considering retirement for American Pharoah, owner Ahmed Zayat announced Sept. 3 that after discussions with Hall of Fame trainer Bob Baffert and other members of the team, he will aim the champ for the Oct. 31 event at Keeneland.

"I have discussed all aspects of American Pharoah's race last Saturday in the Travers—and his condition since the race—with our whole team, and have decided American Pharoah deserves another chance, so we are pointing to the Breeders' Cup Classic," Zayat said in a statement.

American Pharoah was three-quarters of a length behind Keen Ice in the Travers, his first loss of the season and only the second from 10 starts overall. The loss came on the heels of his Aug. 2 victory in the William Hill Haskell Invitational (gr. I), a score made in easy, geared-down fashion, and ended an eight-race win streak for the homebred son of Pioneerof the Nile  .

"I am very confident in my decision," Zayat said. "Not a moment has gone by since the race on Saturday when I have not thought about this decision. My initial concern right after the race was about American Pharoah's condition, because he did not run his 'A' race. He has come out of the race in great shape. And after examining all the evidence and talking it over with our team—Bob Baffert, my son Justin (racing manager for Zayat Stables), (assistant trainer) Jimmy Barnes, and (jockey) Victor Espinoza—I believe there were a combination of factors that prevented American Pharoah from running his absolute best on Saturday. I have every confidence that he can run to his best again, and he deserves the chance to do so."

Zayat told ESPN.com that he didn't know whether American Pharoah would be given a prep race before the Breeders' Cup, and that Baffert would monitor the colt's progress in the coming weeks before plans are finalized. There is a strong possibility that Baffert could ship American Pharoah to train at Churchill Downs for the Breeders' Cup Classic. Should he run in the race as planned, American Pharoah would be the first U.S. Triple Crown winner to do so.

The brilliant bay won the Derby by a length over Firing Line May 2, took the May 16 Xpressbet.com Preakness (gr. I) by seven lengths in a driving rainstorm from longshot Tale of Verve, and galloped by 5 1/2 lengths over Frosted in the June 6 Belmont Stakes Presented by DraftKings (gr. I) to end a 37-year drought as America's latest Triple Crown winner.   

Breeders' Cup president Craig Fravel welcomed the decision.

"While it is not our practice to comment on individual horses contemplating the Breeders' Cup as a year-end target, we want to acknowledge the Zayat family on their decision to keep American Pharoah in training and look forward to his continued engagement with the fans who have so genuinely connected with the first Triple Crown winner in 37 years," Fravel said. "When John Gaines conceived of the Breeders' Cup, he intended that it be an attraction to and showcase for great champions that might otherwise retire from the spotlight.  

"The 2015 Breeders' Cup at Keeneland is shaping up in many ways to be a historic and watershed event and we want to make clear our deep appreciation for all of the horses and their connections who plan to join us for a celebration of racing's champions from around the world."

As previously announced, American Pharoah will enter stud at Ashford Stud near Versailles, Ky., upon his retirement.

"I am very confident that this is the right decision for American Pharoah," Zayat said. "He loves to race. He has provided my family, racing fans, and general sports fans with great thrills this year. He won the Triple Crown earlier this year, and he deserves the chance to be in the sport's premier year-end event."